Mountain Home, a city with over 12,000 residents, is located just south of the Missouri Arkansas border where relaxation finds a home in a tight knit community. The city's friendliness and safety make it an ideal community for both families and retirees.

Although the rivers and lakes provide a lot to our area, Mountain Home has much more than meets the eye. Mountain Home Public Schools fall within the 6A system, making it one of the stronger districts in Arkansas, and with continuing education becoming more prevalent, Arkansas State University-Mountain Home, provides excellent opportunities with two and four year degrees, right in our own backyard.
Baxter Regional Medical Center and all of its affiliates, provide premiere healthcare to the Mountain Home area, with the most advanced technology and various specialty clinics.

Finding something to do in town is easy with our two 18 hole golf courses, local farmer's market and clean parks, there's always something fun to do to enjoy the outdoors during all four of our amazing seasons, making Mountain Home the perfect place to call home!
Below is an alphabetical list of services and businesses for your convenience. Don't hesitate to ask your real estate agent for more detailed information. Many of our agents were born and raised right here in the Twin Lakes area.
AIR CONDITIONING SERVICES:
Central Heating and Cooling - 870-425-4717
Miller Service - 870-424-7002
Montgomery Heating & Aire - 870-425-3001
Quattlebaum Heat & Air - 870-435-2233
AIRPORTS:
Baxter County Airport - 870-481-5238
Marion County Regional Airport - 870-453-2241
Ozark Regional Airport Midway - 870-481-5418
ANIMAL HOSPITALS:
All Creatures - 870-425-5175
Baxter County Animal Clinic - 870-425-4525
Midway Animal Clinic - 870-481-6369
The Vet Clinic - 870-425-0035
APPLIANCES:
The Home Depot - 870-492-2270
Lowes Home Improvement - 870-492-1000
Sears Hometown Store - 870-425-3191
Banks:
Anstaff - 870-424-3996
Arvest - 870-424-3355
Centennial Bank - 870-424-4100
Farmers & Merchants Bank - 870-492-2101
First National Banking Company - 870-425-2265
Nosari Home Mortgage - 870-425-8351
BOAT DOCK:
Bull Shoals Lake Boat Dock - 870-445-4424
Buzzard Roost Harbor - 870-492-4915
Fout Boat Dock - 870-467-5341
Panther Bay Marina - 870-492-5151
Tracy Ferry Marina - 870-491-5335
CABLE TELEVISION SERVICE:
CenturyLink - 870-425-6659
Steve's Satellite Service - 870-492-3474
Suddenlink Cable - 844-874-7558
CAR RENTAL:
Enterprise - 870-425-4440
Lakeview Car Rental - 870-701-5032
CARPET AND RUG CLEANERS:
Carpet Works - 870-492-4128
Law's Carpet Cleaning - 870-421-5297
Steve's Cleaning and Restoration - 870-404-2663
CHIROPRACTORS:
Foreman Family Chiropractor - 870-701-5012
Long Chiropractor - 870-424-5853
McCoy Chiropractic - 870-425-1644
Mountain Home Chiropractic - 870-424-4424
Twin Lakes Chiropractic - 870-425-2515
CHURCHES:
East Side Baptist - 870-425-3689
Christian Church of Mountain Home - 870-425-8323
Community of Christ - 870-424-3224
First Presbyterian - 870-425-3799
First United Methodist - 870-425-6036
Mountain Home Bible Church - 870-492-6250
Mountain Home Church of Christ - 870-425-4330
Trinity Lutheran - 870-424-2888
DENTISTS:
DeAtley Dental - 870-425-1441
Family Dental - 870-425-7645
Petkovich Family Dentistry - 870-425-9757
Reese Family Dentistry - 870-424-5900
Electric Companies:
Entergy - 870-425-9048
North Arkansas Electric Co-op - 870-425-2141
GAME & FISH:
870-425-7577
GOVERNMENT OFFICES: CITY
Briarcliff - 870-491-5762
Bull Shoals - 870-445-4775
Cotter - 870-435-6326
Flippin - 870-453-8300
Gassville - 870-435-6439
Lakeview - 870-431-8744
Mountain Home 870-425-5115
Norfork 870-499-5225
Salesville 870-499-5675
Yellville 870-449-6581
GOVERNMENT OFFICES: COUNTY
Baxter 870-425-3475
Marion 870-449-2402
HEATING SERVICES:
Central Heating and Cooling - 870-425-4717

Miller Service - 870-424-7002
Montgomery Heating & Aire - 870-425-3001
Quattlebaum Heat & Air - 870-435-2233
HOSPITALS:
Baxter Regional Medical Center 870-508-6900

To see more about Mountain Home, check out the city website here, or the Mountain Home Chamber website for more information!


Norfork Lake

Encompassing more than 22,000 acres, and more than 550 miles of shoreline, Norfork Lake has enough space for whatever you like to do! There are many nearby resorts and established and well maintained parks for picnicking, camping and play equipment for children. Norfork Lake boasts a large variety of fish including, Striped Bass, Walleye, Crappie and Catfish. Several marinas on Norfork Lake are available for watersport, fishing and scuba diving rentals. You won't want to miss this unique pristine lake when you're visiting the area!


Bull Shoals

Bull Shoals, the larger of the twin lakes, covers over 72,000 acres and over 1,000 miles of shoreline. Bull Shoals Dam is located in North Central Arkansas, but the lake sprawls into Southern Missouri as well. With over 20 parks for camping and picnicking, Bull Shoals has lots to offer in ways of recreation. Bull Shoals visitors can also enjoy boating, sailing, skiing and fishing, and can rent the tools to do so at any one of the marinas on the lake. The variety of fish ranges from various types of bass, including Largemouth, spotted and white to Channel Cat.

For more lake information, visit our Army Corps of Engineers site here!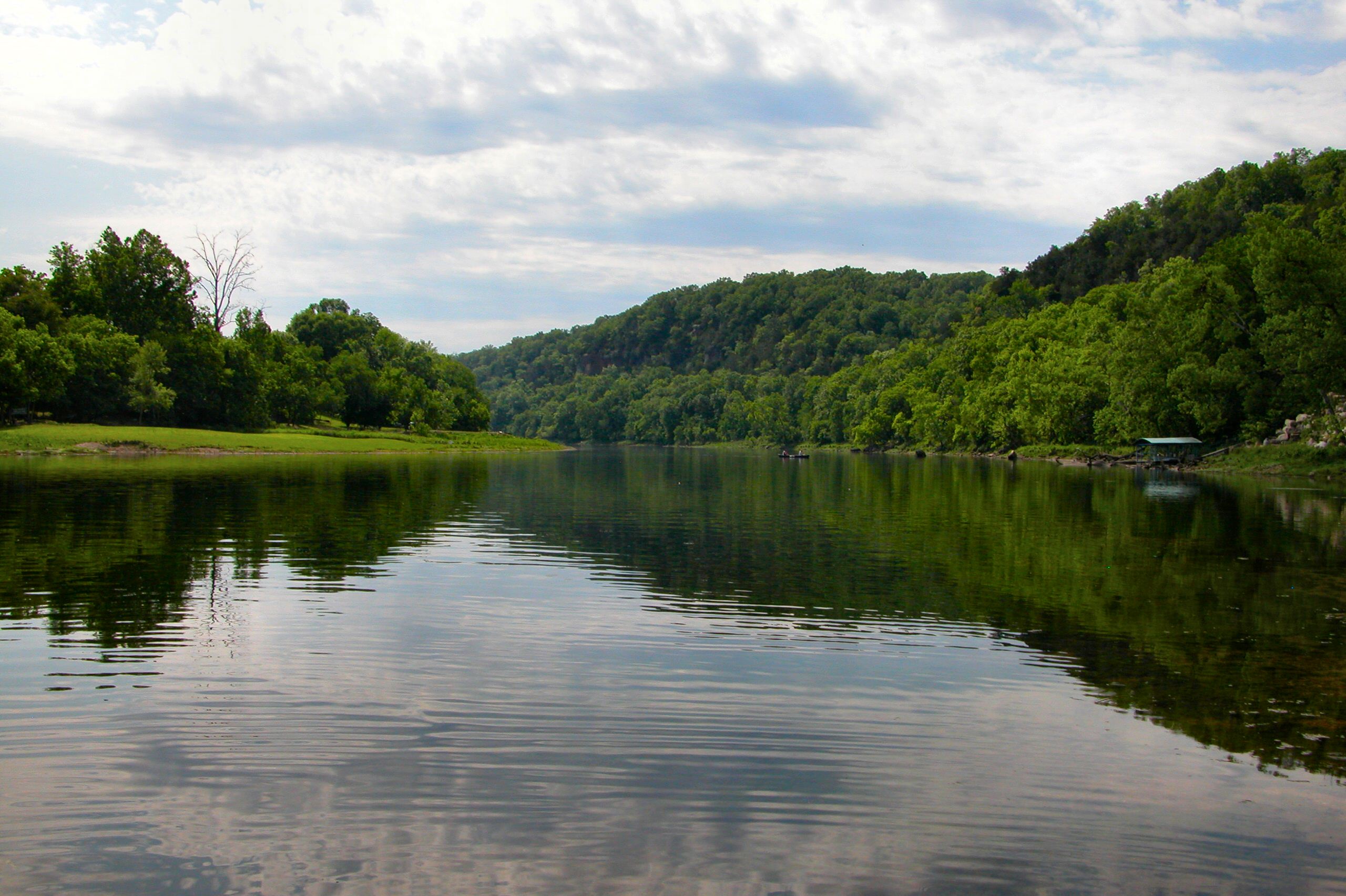 White River

The White River flows from the Bull Shoals Dam, and is famous for it's world class fishing. It's famous trout fishing draws visitors in, and the large Brown, Cutthroat, and Brook Trout, keep them returning. Along the White River sit many cabins and lodges who also have fishing guides for the river. Book your stay and guide trip to catch one of the White's famous trout!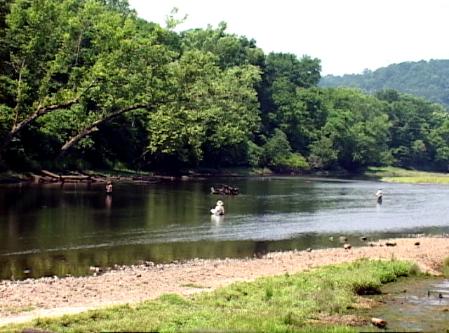 Norfork River

Norfork River stems from Norfork Lake, and runs about 5 miles long, and boasting an equally impressive trout population to it's counterpart, The White River. With cool temperatures running between 47 and 58 degrees year round, it makes for a perfect Trout habitat. The Norfork Fish Hatchery continually stocks the river with many fish. Test out the river with a guide trip, or stay the night at one of the local cabins along the river's edge.

For more fishing information, check out the Arkansas Game and Fish website here!